Hundreds offer to help with Audi boy's funeral procession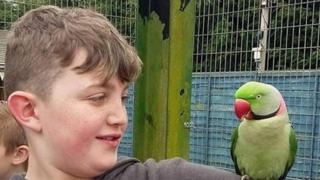 A mother-of-two who issued an online appeal to Audi drivers to take part in a boy's funeral procession has had "hundreds of offers" of help.
George Smith, 11, from Stickney, Lincolnshire, died in hospital after he had an asthma attack on 23 October.
Claire Farrow said she started the appeal after learning of George's passion for Audi cars, with messages from owners and businesses "piling in".
A Facebook page set up by Mrs Farrow has been seen by 53,000 people.
"I have a son who is absolutely adores Land Rovers so I realise how much Audis must have meant to George," she said.
Since issuing the appeal she has been contacted by people from places including Southampton, South Lanarkshire and Swansea asking if they can help.
George, who was a pupil at Stickney Primary School, had suffered with severe asthma since he was very young.
Car dealer support
Mrs Farrow said that after speaking to George's mother she felt she wanted to do something to help.
"I wanted to do something that George's family would remember in a positive way," she said.
"My phone has literally not stopped with the messages of support for George and his family."
Several car dealerships have also pledged cars for the cortege, including a green Audi TTS that George had seen just weeks before he died.
"I would like to say a massive thank you to everybody that has offered to get involved," Mrs Farrow added.
A date has not been set for the funeral.