Dog 'left for dead' by Boston hare coursers recovering well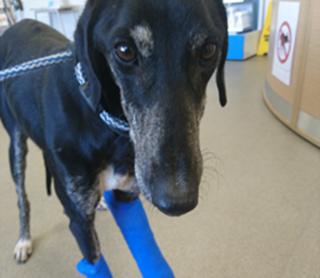 A lurcher-type dog which had its leg amputated after being left for dead by hare coursers is recovering well, the RSPCA has said.
The dog - which had a broken leg - was tied to a bush with baler twine in such a way that it was at risk of strangling itself, the charity said.
Insp Becky Harper said Red is recovering well and is very fast, even on three legs.
The RSPCA is now looking to find him a new home.
More on this and other stories from across Lincolnshire
The dog, about 18-months-old, was spotted by passers-by in a remote lane in Frampton West, near Boston, in September.
Ms Harper said she believed Red, who was in a very bad way when he was found, was abandoned by hare coursers.
She said it was one of the worst cases of animal cruelty she had been involved with.
However, she said: "Red is now doing really well. He is zooming around very fast, even on three legs.
"From the withdrawn, in pain, very tired boy we picked up, he is now full of energy and looking to find a home of his own."
"We just need the right person to come forward," she added.
Those responsible for abandoning Red are yet to be traced.
---
What is hare coursing?
Since 2005, hare coursing has been illegal throughout the UK. The Hunting Act 2004 makes it an offence to hunt wild mammals with dogs
The dogs - usually greyhounds, lurchers or salukis - are on a slip lead, threaded so it can be easily released
The coursers will walk along the field to frighten the hare into the open
The dog catches the hare and kills it by "ragging" it - shaking the animal in its teeth
The dead hare is usually left in the field or thrown in a ditch
Source: Lincolnshire Police
---