Skegness RNLI tow botched rescue effort boats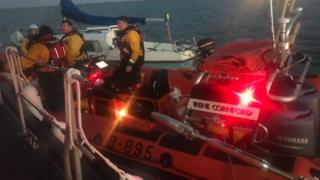 Two broken down boats had to be towed to shore from a busy shipping lane in the early hours after a botched rescue attempt.
The Skegness lifeboat was sent to help a stricken boat in the Wash at about 01:30 GMT on Friday.
Around the same time, the RNLI learned those on board the stranded vessel had called friends in Boston to come in another boat, but that also broke down.
The RNLI's Adam Holmes said it proved to be "quite a challenge".
He said the crew of the first boat - which had run out of fuel and was anchored in 80cm of water - had somehow raised the alarm but were not sure of their location.
Mr Holmes said having two stranded boats to deal with in the dark made the rescue operation more difficult.
It was further hampered by a falling tide and being close to a sandbank, he said.
Skegness RNLI were helped by another crew from Hunstanton, in Norfolk.