Warning over 999 bank fraud scam in Grantham area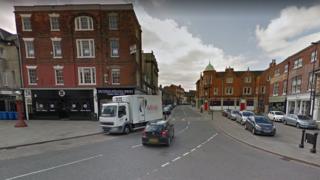 Fraudsters posing as police officers have conned about £21,000 from elderly people in Lincolnshire in recent weeks.
Lincolnshire Police said two 82-year-old women and an 81-year-old man had been tricked by criminals claiming to be investigating fraud.
One victim handed over £10,000, another £7,000, and the third £4,000.
Det Insp Jon Shield said the victims all withdrew cash after being told their bank was being investigated as part of a "sophisticated" scam.
More on this and other local stories from across Lincolnshire
He said: "This scam is much more sophisticated than you might think. What is catching people out is that the fraudster will ask the victim to hang up the phone and call 999 or 101 to check that the call is genuine.
"The victims comply with this but the fraudster doesn't terminate the call, which keeps the line open, and the fraudster poses as a police official once more and confirms that the victim needs to withdraw cash."
He said the criminals were deliberately targeting the elderly, and covering their tracks by telling them not to divulge the investigation to the bank when withdrawing the money.
The cash is then handed over to a courier - who is never seen again, he added.
Timeline
11 November - An 82-year-old woman from Long Bennington, near Grantham, handed over £4,000
8 November - Another 82-year-old woman, from Grantham, handed over £7,000
26 October - An 81-year-old man from Grantham handed over £10,000