Suspected hare coursers escorted out of Lincolnshire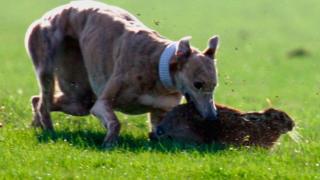 Police in Lincolnshire have issued a dispersal notice and seized one vehicle after multiple reports of hare coursing.
Five men from Kent and Surrey were escorted out of the county and a Toyota Rav 4 was seized, police said.
It followed several reported incidents over the past few days.
Lincolnshire is one of the areas most frequently targeted by coursers - with areas of the county being said to resemble the "Wild West".
More on this and other local stories from across Lincolnshire
The force has described the coursers as the "scourge of rural England", and said it was doing everything within its power to deal with those involved.
Currently there are about 200 incidents a month, it said.
The five men, aged between 23 and 34, were escorted out of Lincolnshire on Wednesday after reports of hare coursing in Amber Hill, Sibsey, Wigtoft, Friskney, and Bicker, and in the Lutton area of South Holland.
One of the men was also issued with a Section 59 warning so that if he is found driving off-road in the next 12 months his car can be seized.
Earlier this year, police introduced off-road vehicles and drones in a bid to combat the coursers.
Traditionally offences start to rise in the autumn after crops have been harvested, and continue until the end of the season in spring.
The force has seized 35 dogs to date this season, which can be put up for re-homing if ordered by the courts.
It said seizing dogs was one of the most effective deterrents available.
---
Hare coursing
Since 2005, hare coursing has been illegal throughout the UK. The Hunting Act 2004 makes it an offence to hunt wild mammals with dogs
The dogs - usually greyhounds, lurchers or salukis - are on a slip lead, threaded so it can be easily released
The coursers will walk along the field to frighten the hare into the open
The dog catches the hare and kills it by "ragging" it - shaking the animal in its teeth
The dead hare is usually left in the field or thrown in a ditch
Source: Lincolnshire Police
---