Boston's £100m flood barrier scheme given the go-ahead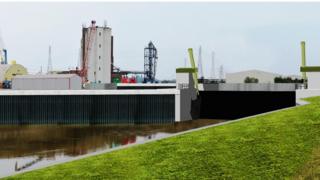 Plans for a £100m flood barrier scheme in Lincolnshire have been approved by the government.
The Environment Agency (EA) said the scheme would protect more than 14,000 properties from flooding.
A moveable gate will be built across the River Witham at Boston along with concrete walls along the bank.
Some fishermen had objected to the project, with one ex-harbourmaster claiming the local fishing industry would be "wiped out".
More on this and other Lincolnshire stories
The town was badly hit by flooding in 2013 after a tidal surge battered the east coast.
Brian Franklin, who was harbourmaster at Boston's port for more than 10 years, said the town needed a barrier but this one was "in the wrong place".
Mr Franklin said there was particular concern over plans to manage the water levels on the tidal river.
"It is going to hamper the operations of the fisherman," he said.
"They're going to have to sail late and they may not get back on the same tide and have to wait for the next tide to come.
"That is not beneficial to the cargoes, or the catches they've caught."