'Distracted' hands-free driver Samantha Ayres jailed for fatal crash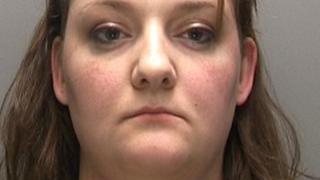 A driver who killed a motorcyclist while making a hands-free call has been jailed for three years.
Samantha Ayres, 34, was on the wrong side of the road when she collided head-on with motorcyclist David Kirk.
Ayres claimed she lost control of her Ford Fiesta when her rear wheel clipped the verge on a rural road.
But she was convicted of dangerous driving after prosecutors argued she was distracted. She was also given a four-year driving ban.
More on this and other stories from across Lincolnshire
Lincoln Crown Court heard Ayres was in mid-conversation in a long call with a friend when she veered onto the wrong side of the road and hit Mr Kirk, 26, on Baumber Road, Horsington.
Ayres denied she had been distracted and claimed she had hit a pothole or a rut, and that had caused her to lose control. But police investigators found no evidence to support this.
Judge John Pini QC said while hands-free use was lawful, it remained a distraction.
"Using a hands-free in these circumstances is dangerous," he said.
Sentencing Ayres, Judge Pini said: "Nothing I say can turn the clock back. No sentence will ever begin to make amends for his death."
"For him to lose his life in this way is as irrational as it is unfair."
Ayres, of West Street, Horncastle, had denied a charge of causing death by dangerous driving as a result of the collision on 7 November 2016.
She was found guilty by a jury at an earlier hearing.
---
The law
It is illegal to use a hand-held mobile phone while driving. This includes using your phone to follow a map, read a text or check social media. This applies even if you are stopped at traffic lights, or queuing in traffic
It is also illegal to use a hand-held phone or similar device when supervising a learner driver
Using hands-free is not illegal. However, if it distracts you and affects your ability to drive safely, you can still be prosecuted
Research has shown drivers are up to nine times more likely to be involved in a collision while using hands-free phones