Shih-tzu owner Michael Timms from Skegness in animal ban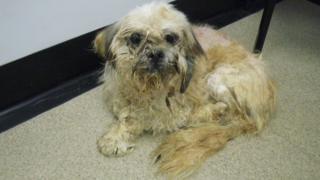 A man whose dog was put to sleep after being found with a burst abscess, a tumour and fleas has been banned from keeping animals for 10 years.
A shih tzu, called Skye, was found staggering on a road in Skegness in March and was put down on vet's advice.
Owner Michael Timms, of Wainfleet Road, Skegness, was convicted of causing unnecessary suffering to the dog.
Lincoln Magistrates' Court also sentenced him to 20 weeks in prison, suspended for 24 months.
'Heartbreaking'
The court heard the dog had been missing from home for just over two weeks after being let out into the garden.
"She was in a horrendous state [when she was found]," Laura Jones, from the RSPCA, said.
She said the dog had a burst abscess in her mouth, rotting teeth, a flea infestation and had a "golf ball-sized tumour" in her abdomen.
"Despite all she was enduring she was adorable and sweet natured. It was absolutely heartbreaking," Ms Jones added.
Timms was tracked down after a media appeal when a member of the public found the animal, the court heard.
He was aware of a problem with her skin and her mouth and claimed he had a vet out to her some time in 2016 because she had been in pain, but no records of this were found.
Timms was also ordered to give up four budgies in his care.