Donna Nook Nature Reserve's record year for seal pup births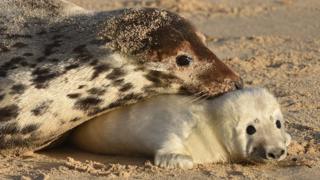 The number of seals born at a nature reserve has topped last year's figure.
Lincolnshire Wildlife Trust, which manages Donna Nook Nature Reserve, said a record-breaking 2,024 pups were born so far this year, up by 65 births from 1,959 in 2016.
Last month a rare black seal pup caused a stir on social media.
In 2011 and 2013, dozens of youngsters died when tidal surges hit the coast but the colony has otherwise enjoyed growth every year.
The first pup of this year was reported to have been born on 13 October.
On its Facebook page, the trust posted: "Total number of pups born this year is 2024. 968 seals have left the beach this week!"