Lincolnshire Police to name drink or drug-drive suspects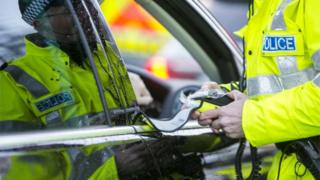 Lincolnshire Police is to name people charged with drink or drug-driving over the festive period as part of a campaign to try and reduce offences.
The force said it would publish details on social media to make people think twice before getting behind the wheel.
Supt Phil Vickers said: "It isn't about shaming people - it is about preventing offences in the first place."
Motor offence lawyer Nick Freeman described naming those charged as "premature".
In response, Mr Vickers said once a person is charged their name is already in the public domain.
"All we are doing is simply putting that out," he said.
He said the main aim of the campaign was to make people think, not to undermine the court process.
"We think it's important that we put this into the wider domain and persuade people not to commit the offence in the first place."
'Gallery of shame'
According to Lincolnshire Police, the force already prosecutes the highest number of drink-drivers in the UK, per head of population.
In 2016, they charged more than 700 people with drink or drug-driving offences.
It said the vast majority of those charged were later convicted, however, it said it was happy to publicise details of anyone acquitted.
Mr Freeman said: "You are only deemed guilty when a court of law has considered the evidence and convicted you.
"What they should be doing is saying we are going to have a drink-drive campaign, and after Christmas we will have a gallery of shame for all those convicted. That would provide the perfect deterrent.
"What they shouldn't do is name and shame people who ultimately might be acquitted."