Lincolnshire Police seize dogs to disrupt hare coursers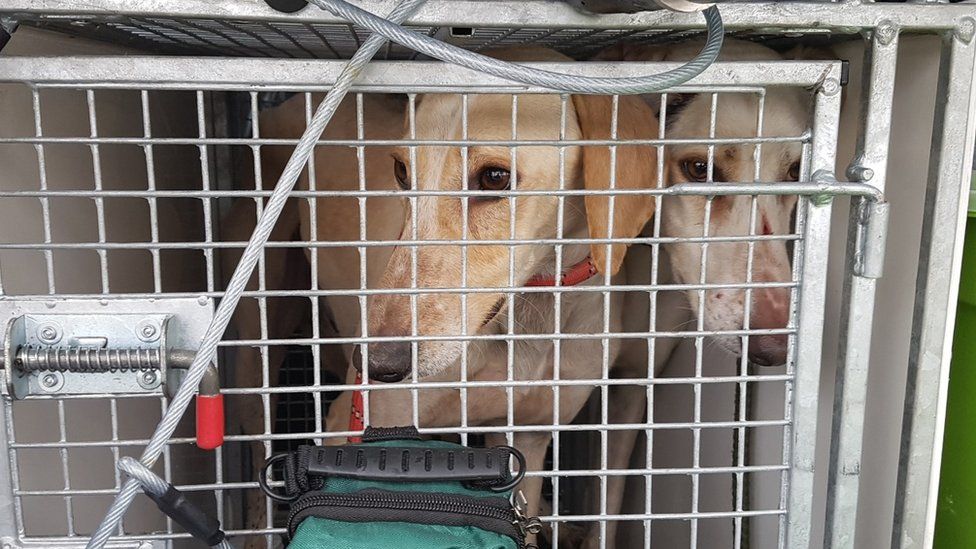 Suspected hare coursers had their dogs confiscated as part of a new disruption tactic employed by Lincolnshire Police.
In a police operation on Wednesday, the force seized three dogs from a car at Holbeach St Johns, in the south of the county.
The men had travelled nearly 200 miles from Bishop Auckland, near Darlington, and told police they were in Lincolnshire to "walk their dogs".
Ch Insp Jim Tyner said: "They get very upset if we take the dogs from them."
The force routinely seizes dogs if someone is caught hare coursing in the county.
But the new initiative is aimed at preventing those suspected of moving to another area if there is not enough evidence for a prosecution.
One of the men at Holbeach St Johns was arrested, and later de-arrested, for refusing to give his details when he was told his dog would be seized.
The men were also issued with a dispersal order, which meant they had to leave the county and return for their dogs at a specified time.
Ch Insp Tyner said: "The reaction of the dogs' owners showed it's the right thing to do."
In a separate incident at Long Sutton, one suspected courser, who had travelled from Middlesbrough, told the BBC the tactic was unlikely to deter him.
"We come for the flat land - to see out dogs run properly, and there are better hares down here," he said.
"If you've got a dog down here killing the hares, then you've got a good dog."
He claimed to have made £15,000 from one of his dogs, but said the main reason for hare coursing was to "have fun".
"It's a family tradition," he said, especially during the Christmas holidays.
According to police, coursers are often engaged in illegal betting involving large sums of money and the dogs involved can also be worth thousands of pounds.
Previously, anyone suspected of hare coursing would be escorted out of the county.
"This simply moved the problem elsewhere," Ch Insp Tyner said.
"By seizing the dogs we are at least disrupting activity on that day."
Since 2005, hare coursing has been illegal throughout the UK. The Hunting Act 2004 makes it an offence to hunt wild mammals with dogs
The dogs - usually greyhounds, lurchers or salukis - are on a slip lead, threaded so it can be easily released
The coursers will walk along the field to frighten the hare into the open
The dog catches the hare and kills it by "ragging" it - shaking the animal in its teeth
The dead hare is usually left in the field or thrown in a ditch
Source: Lincolnshire Police
Related Internet Links
The BBC is not responsible for the content of external sites.