Lincolnshire Police hunt for PC's helmet after theft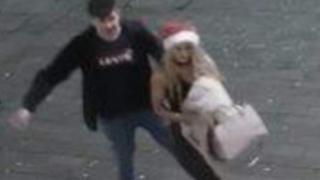 Police have released CCTV of a woman suspected of stealing an officer's helmet while he was dealing with an assault.
The officer was in Lincoln High Street at 02:15 GMT on Saturday when a woman took the helmet and tried it on.
Lincolnshire Police said she then made off with it concealed under her coat, accompanied by a man.
The force has asked anyone who knows anything, or has seen the helmet, to contact them.
More on this and other stories from across Lincolnshire
The theft has attracted a number of responses on the force's Facebook page.
Graham Smith wrote: "How embarrassing! I remember when police constables reported their helmets as lost, rather than admit students had grabbed, and run off with, their helmets!"
Nick Ristic said: "I take my hat off to them."
Rick Day posted: "Hmm, do we publish this on social media and make ourselves look like proper clowns or do we keep this under our hat and just get on with our jobs?
"Hats gone, get it all over Facebook lads, folk enjoy a right laugh."
Others were more critical, including Gary Ess, who wrote: "I'd rather my tax money go on some real policing."