Lincolnshire hare coursers crash car in bid to escape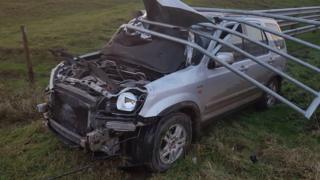 Police are appealing for witnesses after suspected hare coursers drove a car across fields, crashing through three sets of metal farm gates.
Officers responded to reports of hare coursing in the West Pinchbeck area of Lincolnshire on Wednesday.
A silver Honda CR-V was found abandoned close to a nature reserve in Deeping St Nicholas, along with a dog.
The force has appealed for witnesses to come forward, and is trying to trace the dog's owner.
In a post on Twitter, Lincolnshire's Police and Crime Commissioner Marc Jones said coursers were spreading fear among rural communities.
According to police, coursers are often engaged in illegal betting involving large sums of money and the dogs involved can also be worth thousands of pounds.
There have been a number of reported incidents where suspected coursers have driven at police or at high speed in a bid to get away.
Farmers in parts of Lincolnshire have also said they fear for their safety after an escalation in the level of violence used by people setting dogs on hares.
---
Hare coursing
Since 2005, hare coursing has been illegal throughout the UK. The Hunting Act 2004 makes it an offence to hunt wild mammals with dogs
The dogs - usually greyhounds, lurchers or salukis - are on a slip lead, threaded so it can be easily released
The coursers will walk along the field to frighten the hare into the open
The dog catches the hare and kills it by "ragging" it - shaking the animal in its teeth
The dead hare is usually left in the field or thrown in a ditch
Source: Lincolnshire Police