Alex Masters death: Godmother told nurse 'I killed baby'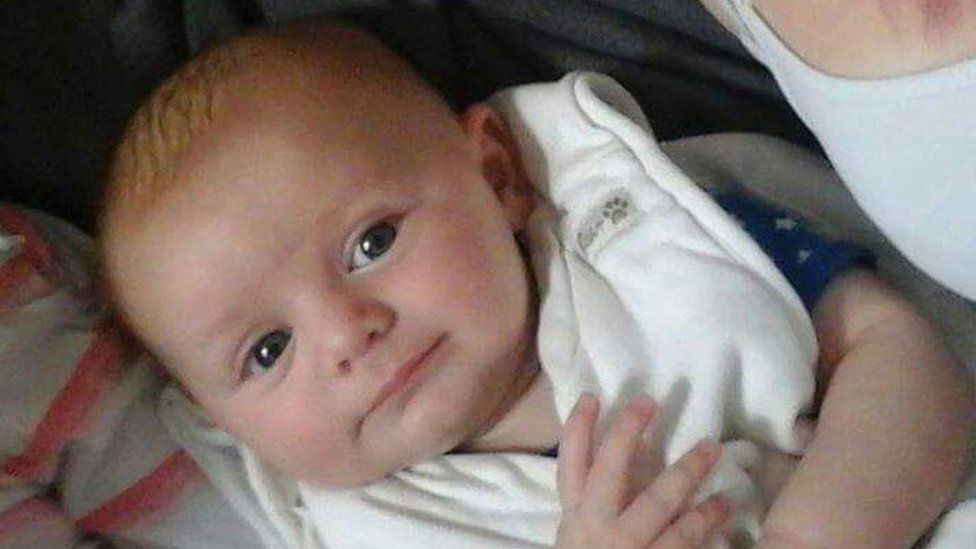 The godmother of a baby, who died while she was caring for him, told a nurse she had killed him, an inquest heard.
Baby Alex Masters died after being cared for overnight at Claire Sawyer's flat in Lincoln, in October 2015.
An inquest heard Miss Sawyer put Alex in his car seat the morning after, giving him a bottle of milk with a blanket propped underneath it.
She then fell asleep and woke to find him with blue lips. Despite rushing him to hospital Alex could not be revived.
A post-mortem examination found milk in his lungs but the cause of his death, on 3 October, could not be confirmed.
The inquest at Lincolnshire Cathedral Centre, heard Miss Sawyer was hysterical when she reached the hospital.
Staff nurse Amy Henderson spoke to her and repeated the conversation they had to PC Katherine Braithwaite.
"[Claire] said the baby woke crying about 08:00 so she put the baby in the car seat and gave the baby the bottle with the blanket propped underneath," PC Braithwaite told the hearing.
"She then said she woke up and saw the baby with the blue blanket slightly under his mouth.
"She took him out of the car seat and saw he had blue lips. As she moved him up she saw milk coming out of his nose and mouth.
"[The nurse] asked what time she woke up but she was hysterical and saying she had killed the baby."
Miss Sawyer, from Gainsborough, was arrested on suspicion of murder but criminal charges were never brought.
The inquest heard Miss Sawyer had a past history of taking drugs but tests showed no evidence she had drunk alcohol or taken illegal drugs at the time of Alex's death.
Alex's mother Chloe, 18, earlier told the hearing she had only left her son in Miss Sawyer's care because she understood his godmother's adult daughter, who she said was more responsible, would also be there.
The senior coroner for Lincolnshire, Stuart Fisher, is expected to give his conclusion on 8 February, on how Alex died.
Related Internet Links
The BBC is not responsible for the content of external sites.