Pub demolition vote favours Haxey Hood players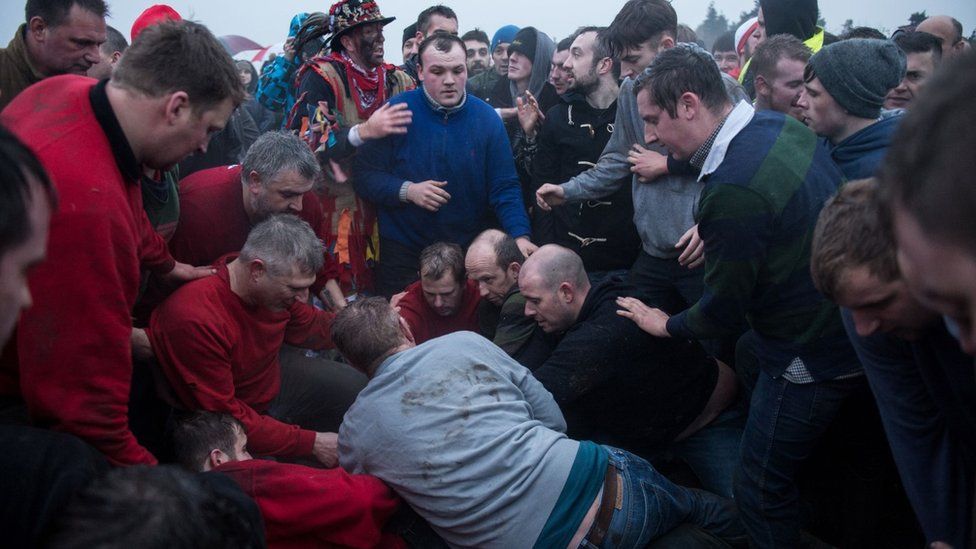 A village pub which plays an "integral" part in an ancient mass rugby-style game has been saved from plans to turn it into housing.
The Haxey Hood game, which dates back to the 14th Century, is held annually on the Twelfth Day of Christmas.
It has involved patrons from The Carpenters Arms in Westwoodside, and The Kings Arms, The Loco and the Duke William, all in Haxey.
The Duke William was due to be demolished to make way for new homes.
Campaigners feared the loss of the pub would jeopardise the future of the Haxey Hood, which involves a large scrum pushing a leather tube to one of the pubs, where it remains until the following year's event.
Councillors on North Lincolnshire Council's planning committee turned down the plans after unanimously voting that the proposal would have a detrimental impact on the village.
Mick Grant, member of the planning committee, said councillors should not stand in the way of villagers.
"300 people turned up to a meeting in Haxey and said they do not want this," he said.
"Who are we to argue with them?"
Alan Holgate, from the We Live Here Haxey Community Group, said he was pleased with the decision and vowed to continue to fight to save the pub.
"All along we have been fighting to keep the Duke as a public house," he said.
The pub's owner said it "was not viable" and accounts had been submitted to the local authority to prove it.
The tradition is said to have started when Lady de Mowbray was out riding between Westwoodside and Haxey - between Gainsborough, Scunthorpe and Doncaster - when her silk riding hood was blown away by the wind
She is said to have been so amused to see local farm workers chasing it she rewarded them land - on condition the chase be re-enacted every year
The story says the worker who caught the hood was too shy to approach her and handed it to a fellow worker to return
It is said Lady de Mowbray thanked the man who returned the hood and said he had acted like a lord. The worker who caught it was labelled a fool