Lincolnshire PC dismissed over 'self-inflicted wounds'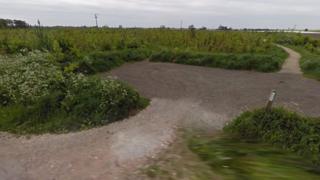 A police officer who claimed he had been attacked with a knife while on duty has been dismissed after it was found his injuries were self-inflicted.
PC Anthony Colson claimed he was assaulted in a car park in Boston, Lincolnshire, in November 2016.
But a misconduct hearing at Lincolnshire Police headquarters was given medical evidence to the contrary.
Lawyers for the officer argued he was suffering from depression and "did not consciously manipulate the incident".
More on this and other stories from across Lincolnshire
The hearing was told PC Colson alerted the emergency button on his radio which sparked an "urgent" response with national air support and dog handlers being deployed to the Beech Wood car park.
Chairman of the misconduct panel, David Tyme, said PC Colson's actions amounted to gross misconduct.
He said while the panel were sympathetic to "significant events" which had caused PC Colson stress and anxiety it did not accept claims made by the officer's lawyers.
Self-inflicted wounds
The panel also heard a transcript of PC Colson's call in which he says: "I think I've been cut - didn't see people - they came out of the woods.
"I saw some torch lights. I got out of my car to look, hit on back of neck...bleeding from head."
But Oliver Thorne, representing Lincolnshire Police, told the hearing PC Colson was "the author" of his own injuries.
He told the panel a doctor said it was his opinion the wounds were self-inflicted.
At the time of the incident PC Colson was suffering from symptoms of depression and had previously been attacked while on duty, been involved in a road accident and suffered the loss of his father, a close friend and two family dogs.
PC Colson told the hearing he still believes he was assaulted by a third party but now accepts it is possible he harmed himself.