Red Arrows death: Ejection seat failure a 'once every 115 years' event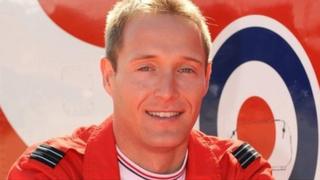 The death of a Red Arrows pilot after the parachute on his ejection seat failed to deploy would only happen once every 115 years, a court has heard.
Flt Lt Sean Cunningham, 35, was ejected from his jet while conducting pre-flight safety checks at RAF Scampton in 2011.
The parachute on the seat did not then deploy and the airman was fatally injured, Lincoln Crown Court heard.
Martin-Baker Aircraft Ltd previously admitted to breaching safety laws.
Richard Matthews, defending, said: "The company accepts its responsibility for the significant contribution and failings it has made in the death of Lt Cunningham.
"The ethos of the company from its inception is for the ejection seat to be a lifeboat that should operate effectively in every situation."
"In the 1990s, what Martin-Baker had in place was a good system and it just failed in this instance," he said.
Mr Matthews said: "The MoD's [Ministry of Defence] assessment of the likelihood of a similar event such as this happening is that it would only happen once every 115 years."
Martin-Baker Aircraft Ltd director John Martin previously admitted on behalf of the company the failure to ensure the safety of non-employees in connection with Flt Lt Cunningham's death.
However, in a statement, the company said: "It should be noted that this was an isolated failure relating to the tightening of a nut... by RAF Aerobatic Team mechanics."
It added its ejection seats were in use by 92 air forces and had saved more than 7,000 lives.
Previously, Rex Tedd QC, for the prosecution, said: "There was a risk to many pilots over a lengthy period. The defendant's failure was anything but isolated."
Mr Tedd also told the court: "Sean's two biggest fears in life were being ejected from an aircraft, and the injuries that he would sustain, and dying at a young age. Horrifically he experienced both."
The Middlesex-based company has already agreed to pay £550,000 in prosecution costs as a result of the guilty plea.
---
Timeline of events:
8 November 2011: Flt Lt Sean Cunningham died after being ejected from a Hawk T1 jet while on the ground at the Red Arrows base at RAF Scampton
9 November 2011: The day after his death, the MoD suspended training flights of aircraft fitted with the MK10 ejection seats including Hawk T1, Tornado and Tucano
22 November 2011: An inquest, which opened and adjourned in Lincoln, heard the Red Arrows pilot died from multiple injuries after being ejected from an aircraft. The coroner's court was told he fell from a height and had hit the ground, still strapped to his seat
December 2011: The funeral of Flt Lt Cunningham was held at Coventry Cathedral, attended by 800 mourners including RAF personnel. The halted flights were resumed
March 2013: The Crown Prosecution Service said it would review the pilot's death after Lincolnshire Police handed over a file of evidence
April 2013: Prosecutor Alison Storey said no charges would be brought over the fatality because there had been insufficient evidence on whether anyone had breached their duty of care
January 2014: Coroner Stuart Fisher recorded a narrative verdict after a three-week inquest into Flt Lt Cunningham's death
September 2016: The Health and Safety Executive said it would prosecute Martin Baker Aircraft Ltd for an alleged breach of health and safety law
January 2017: The ejection seat firm appeared in court charged with a breach of health and safety law
May 2017: Martin-Baker Aircraft Ltd pleaded not guilty at Lincoln Crown Court to breaching Section 3(1) of the Health and Safety at Work Act 1974
Jan 2018: Company director John Martin pleads guilty to charges on behalf of the company
---
An earlier inquest into Flt Lt Cunningham's death heard the Iraq war veteran, who grew up in Coventry, had been carrying out checks in his Hawk T1 jet when the seat fired.
It emerged during the hearing the seat-firing handle had been left in an unsafe position meaning it could accidentally activate the seat.
His parachute failed to deploy because a nut and bolt had been fastened too tightly.
Sentencing was adjourned until 23 February.