Tour of the Wolds: Cycle race cancelled for 2018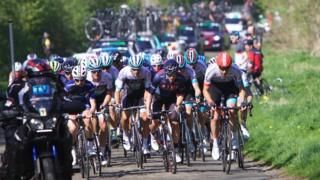 A British Cycling event held in Lincolnshire for the first time in 2017 will not take place this year.
The inaugural Tour of the Wolds was held for the first time in April, and featured many top riders, including Dame Sarah Storey.
Event organiser Peter Odam said it had proved extremely difficult to confirm insurance and attract sponsorship before the deadline.
"We have therefore taken the decision to cancel the race this year," he said.
More on this and other stories from across Lincolnshire
Mr Odam, from Event Delivery Solutions, said: "The problem is now we've really just run out of time."
"We've decided it's not sensible to try and put on an event which is not 100%," he added.
However, he said it was hoped the event could be brought back in 2019.
The 2017 event, which featured a 102-mile (164 km/h) men's race and a 62-mile (99 km/h) women's race, attracted tens of thousands of spectators, and was said to be worth about £250,000 to the local economy.
The local authority, East Lindsey District Council, said in addition to increased visitor spending, the 2017 event "significantly raised the profile" of the Lincolnshire Wolds as a destination for cycling.
It said it would work with the organisers to look at what can be done to secure the event for future years.
The annual Lincoln Grand Prix - which is organised by the same company - will go ahead as planned in May.