Heckington Windmill: Volunteer dies in engine accident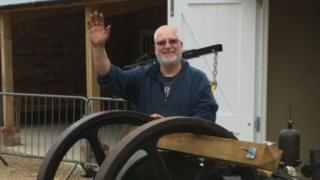 A volunteer engineer has died in an accident at a community-run windmill.
Pete Lett, 53, had been working on the restoration of an oil engine at Heckington Windmill, between Boston and Sleaford in Lincolnshire, on Sunday.
Operators of the windmill said his clothes got stuck in the engine, which was used to power grinding stones, and he suffered a severe blow to the head.
Mr Lett leaves a wife Ann, a minister in the Sleaford Methodist Circuit, and daughters Rebecca and Catherine.
More on this story and others in Lincolnshire
Charles Pinchbeck, Chairman of the Heckington Windmill Trust, said the windmill was a community project which many people in the village of were involved in.
He said Mr Lett, who ran the engineering team, was setting the engine up for a test run when the accident happened.
"It is a dreadful loss," he said. "Pete is such a highly-skilled man and such a wonderful human being.
"He gathered and led that group so well and so gently and so ably. He is very, very much missed."
Mr Pinchbeck added: "As part of the project we have reinstated an oil engine that will drive an additional set of stones, which means we will be able to grind even when there is no wind.
"They have been working on this for nearly three years. Three years getting the right engine, restoring it, testing it, improving it, setting up the installation.
"This was almost one of the last tests before we set it up and started grinding with it."
The windmill stopped producing flour in 2010 but restarted four years later after a £1m grant from the Heritage Lottery Fund helped pay for its restoration.
The eight-sailed mill was one of only seven of its kind ever built and is the only one to still work.
Lincolnshire Police said it was contacted at about 12:50 GMT on Sunday and it attended along with the air ambulance.
The force said it was being treated as an industrial accident and the case has been passed to Lincolnshire County Council Health and Safety Unit and the coroner.
---
Heckington Windmill
The mill was originally built in 1830 by Edward Ingledew as a five-sailed mill
Following a severe thunderstorm, the mill was repaired in 1892 using eight sails from a windmill in Boston
It ceased work in 1946 and deteriorated until it was purchased by Kesteven County Council in 1953
The mill is now owned by Lincolnshire County Council, but is operated and run on a voluntary basis by Heckington Windmill Trust