Lincolnshire villages still cut off amid big freeze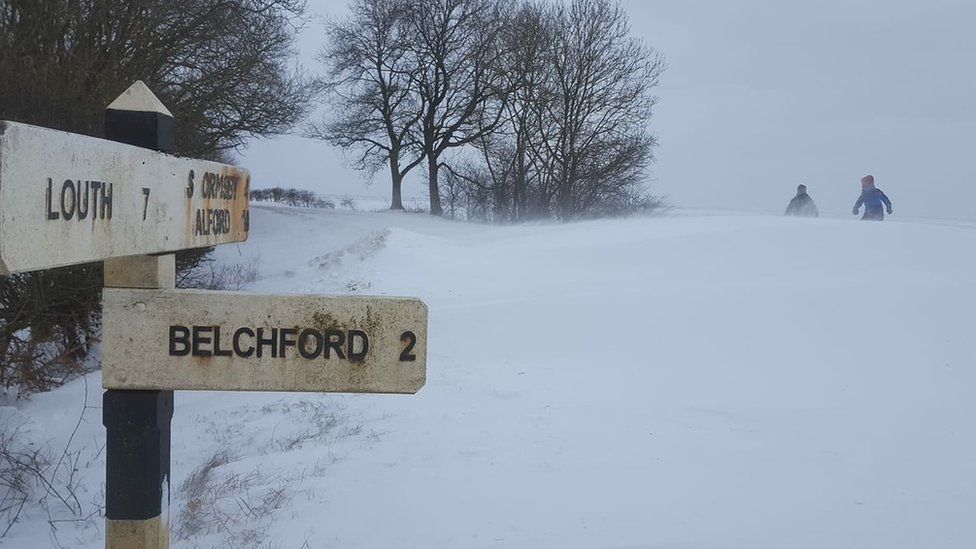 Freezing conditions are continuing to cause widespread disruption across Lincolnshire, where more than 150 schools are shut for a third day.
Police have urged people not to travel unless "absolutely necessary" as some major roads across the county remain impassable.
The force said drifting snow was the main issue and the "stay home" message would continue into the weekend.
Attempts are being made to get supplies to cut-off villages.
Insp Phil Baker praised the efforts of farmers and said: "We'll be asking them yet again to dig deep and help the communities in which they live."
RAF personnel are helping to take nine patients to their homes in Mablethorpe and Skegness from Boston's Pilgrim Hospital.
A spokesperson for United Lincolnshire Hospitals NHS Trust said: "Many of these people have been waiting a couple of days to go home and have been unable to do so because of the adverse weather conditions and the accessibility of the road network.
"By freeing up these beds it will enable hospital staff to be ready for any new patients needing to be admitted to the hospital."
Things That Make You Go Hmmmm....
In Skegness, Butlins has cancelled a sold-out 90s music event featuring Whigfield and C+C Music Factory due to the weather.
"In a post on Facebook, it said: "Just to confirm, our Minehead and Skegness resorts are officially closed this weekend.
"Please do not travel as we are unable to check you in. If you are already on your way, please turn around when it is safe to do so."
The county council said it had been gritting as usual and snow ploughs were in action dealing with drifting snow across the county.
On a lighter note, the inclement weather brought an unexpected bonus for a wedding in Skegness on Thursday.
The BBC Concert Orchestra was stranded at the Crown Hotel in the resort following a performance.
They heard a wedding was taking place in the hotel and decided to provide some surprise entertainment for the happy couple, Lisa and Reece Brown
They were treated to several tunes by 10 members of the 65-piece orchestra.
Orchestra manager Alex Waldren said: "We heard you playing Pachelbel's Canon on record when you arrived, well we'll give you the real thing, live, right here."