Photo of Jesse James bought on eBay could be worth millions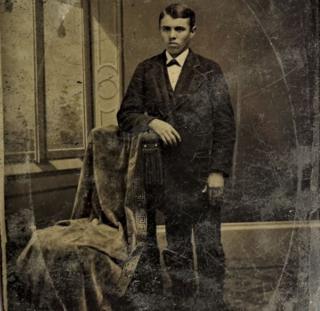 A photo bought by a collector for £7 on eBay could be worth millions after experts identified it as a rare picture of Wild West outlaw Jesse James.
Justin Whiting, 45, bought the tintype image and noticed a similarity between the boy in the picture and a photo of Jesse James in a book.
He consulted experts who confirmed it was a genuine portrait of the bank robber taken when he was 14.
Mr Whiting, from Spalding, said experts believe it could be worth at least £2m.
He bought the tintype - an early form of photography in which an image is produced on a thin sheet of tin - via eBay last July.
The selling title stated: "Victorian tintype photo young man in dark suit standing by chair 1870-1879 US".
---
An outlaw's life
Born Jesse Woodson James in Kearney, Missouri in 1847
He joined Quantrill's Raiders at 16
His first bank robbery attempt was a failure
He killed an engineer during his first train robbery
On April 3, 1882, he was shot and killed by one of his gang who hoped to collect a reward
---
He decided to have it analysed and enlisted the help of Will Dunniway, a 19th Century photography expert from California, who concluded the photo was taken between 1861 to 1862.
A report by the expert said: "It is very evident by the face, hair cut, jacket, shirt and tie that this is the same image of Jesse James at 14 years old. One of the originals."
Mr Whiting, who has been out of work since 2003 due to back problems, then sent the image, measuring 3.5in by 2.5in, to Los Angeles forensic expert Kent Gibson who also confirmed its authenticity.
He said he intended to sell the photo so he could buy his own house and car, adding: "I'm being super careful. That photograph is the most valuable thing I've ever had in my possession. It's staying in my friend's safe for now."
Mr Gibson said: "All power to Justin. An authentic photograph of outlaw Billy the Kid sold for $5m (£3.6m) in 2015 so the sky's the limit.
"Jesse James is a very famous outlaw so this is obviously a valuable image."