Mablethorpe bank holiday stabbing over 'trivial' remark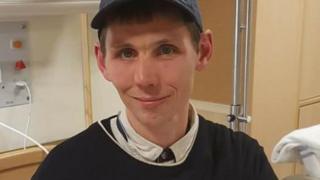 A man stabbed his neighbour to death in the mistaken belief his girlfriend had been called a "dog", a court has heard.
James Adam, 46, is accused of killing James Rudd, 37, during an argument in Mablethorpe, Lincolnshire, last August.
The day before, Lincoln Crown Court heard, the victim's girlfriend shouted "who's walking who?" as the defendant's partner walked a dog.
Mr Adam, who the court heard is known as "Scottish Jamie", denies murder and possessing an offensive weapon.
More stories from Lincolnshire
Peter Joyce QC, prosecuting, told the court Mr Rudd's death on 28 August arose out of "innocence and triviality" while Mr Adam's then-partner, Helen Witney, was out dog-walking the previous day.
'Nothing of the sort'
Jurors heard Mr Rudd's partner, Kirsty Owens, was passing by in a car and had called out to Ms Witney's friend, whose dog was pulling him along: "Who's taking who for a walk?"
Mr Joyce said the friend, Wayne Pemberton, had laughed and replied "I know".
But the next day, the court heard, Mr Adam confronted Mr Rudd over the remark, taking great offence that his girlfriend had been called a dog.
"It was nothing of the sort," Mr Joyce told the jury. "For that Mr Rudd ended up dead."
During the resulting argument, the prosecutor said, the defendant punched the victim several times before stabbing him twice.
'Self-defence' claim
Afterwards, Mr Rudd was seen on CCTV coming out of an alleyway and eventually collapsing on the pavement.
"At that time Jamie Rudd was lying bleeding to death in the street," Mr Joyce said.
Shaun Bodham, who had been driving the car the day before, dialled 999 to report the stabbing, Mr Joyce said.
During the call, the court heard, he told the operator "Scottish Jamie" had stabbed Mr Rudd.
When police arrived, Mr Adam, of Victoria Road, Mablethorpe, told the arresting officers he had acted in self-defence, added Mr Joyce.
The knife used to stab Mr Rudd was found in a green bin outside a launderette, it is alleged.
A post-mortem examination found Mr Rudd suffered a slash wound under his left armpit and a second stab wound entered the left ventricle of his heart.
The trial continues.