Joseph Rooney 'slavery victims' were free to leave, court hears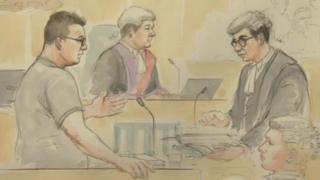 A man accused of keeping vulnerable men as slaves on a traveller site has told a court they were free to leave at any time.
Joseph Rooney, 45, from Washingborough, Lincolnshire, targeted victims who were homeless or alcoholics, Leicester Crown Court was told.
One man claimed he was fed on scraps and paid £10 a day for 15 hours work.
Mr Rooney denies one count of conspiracy to require persons to perform forced or compulsory labour.
He also denies three counts of causing actually bodily harm.
The prosecution claims Mr Rooney forced victims to work at paving drives, and live in squalid conditions.
But answering questions from his defence barrister Paul Hynes QC, Mr Rooney said anyone was free to leave at any time.
"If anybody on the caravan site wanted to leave, and they were held there against their will... if they wanted to contact anyone, it was quite easy for them to do," he said.
"I saw a number of homeless people on the site through the years. They'd live there for a certain amount of time then move on."
Asked about living conditions, he said: "You're not coming to Buckingham Palace - life is very hard for everyone."
The court also heard how Mr Rooney did "not like to see food wasted" and shared leftover pizza or takeaways with anyone who wanted it.
Mr Rooney was also asked if it had occurred to him the men were vulnerable.
He replied: "It's possible, but are we not all vulnerable at times?
"We have times in our lives when we don't understand what's going on - sometimes you have to hit rock bottom before you can rise again."
The offences are alleged to have taken place between 2010 and 2014.
The trial continues.