Theatre faces final curtain if new EU law approved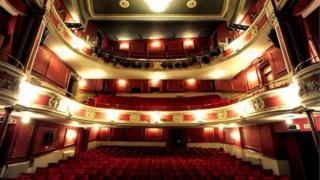 A 19th Century theatre would have to close or face costs of more than £150,000 under EU laws to ban the majority of stage lighting.
If given the go-ahead, the European Commission proposals would abolish the exemption allowing theatres to use tungsten bulbs.
It would mean the New Theatre Royal in Lincoln would have to replace all its vintage lights and associated systems.
Director Natalie Hayes-Cowley said: "It would quite frankly closes us down."
Read more stories from across Lincolnshire
Under the Eco-design Working Plan 2016-2019 the European Commission wants to bring most theatre lights under the same rules that govern domestic, office and industrial lighting.
Legislation introduced in 2009 banned retailers from selling tungsten lighting for domestic use, but permitted them to do so for use in theatres.
From 2020, the commission is proposing to allow only light sources that meet a notional efficiency target, which would mean theatres having to switch to more expensive LEDs.
Despite Brexit, it is expected all EU laws agreed this year would still become British law.
Rob Halliday, from The Association of Lighting Designers, said the changes would hit smaller theatres particularly hard.
"LED lights are much more expensive, of the order of six to ten times more expensive than buying a new traditional spotlight.
"If you're a small theatre, all you spend money on is £20 or £30 a year to buy new light bulbs to keep them going.
Mrs Hayes-Cowley said: "It's very hard to make ends meet as it is because we're an independent we simply don't have the funds to financially replace all the lights in the theatre."
Campaign group T Save Stage Lighting, said the "impact on theatre production across Europe would be immediate and overwhelming" and has started a petition.