Boston fairground revellers stranded in mid-air on ride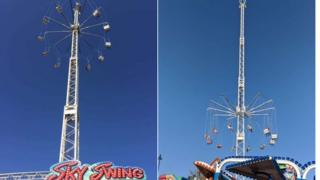 More than 20 people were trapped in mid-air for over an hour when a fairground ride broke down.
The Sky Swing ride at Boston's May Fair broke down on Monday, one of the hottest days of the year so far.
The ride, claimed to be the world's tallest portable swing attraction, suffered an electrical failure, according to Boston Borough Council.
Jamie Hubbard, who had family members on the ride, said it was very distressing.
"As it was meant to be stopping there was a grinding noise and it got stuck at its highest point," he said.
Mr Hubbard, whose teenage daughter and nephew were stranded, said it was eventually lowered to about the halfway point before it got stuck again.
"It was stuck for nearly an hour and a half," he said.
"It was bad enough watching. I can't imagine what it was like being up there.
"They wanted to go straight home when they got down."
Mr Hubbard said the experience had left them shaken but otherwise unharmed.
In a statement, Boston Borough Council said: "We can confirm that the Sky Swing suffered a breakdown caused by an electrical fault on Bank Holiday Monday.
"Although this presented no danger it did leave riders stranded high in the air for about an hour before they could be manually lowered.
"All were seen by a medical team and given water."