Campaign medal call for WWII Bomber Command veterans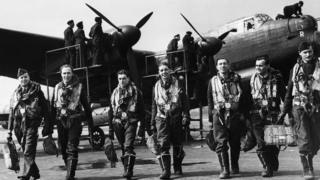 Campaigners have renewed calls for a dedicated medal to be awarded to Bomber Command veterans.
Almost half of the 125,000 personnel serving with Bomber Command lost their lives in World War Two.
Those supporting the campaign said it was time the government recognised those who served.
Critics argue a dedicated medal would be inappropriate due to the thousands of German civilians killed in large-scale bombing raids.
Heather Allsworth, who started a petition for a dedicated medal, said: "The veterans of Bomber Command have never received the recognition they deserve."
She said countries such as France and the Netherlands were "giving our veterans medals".
"I think it is time our government did the same," she added.
You might also be interested in:
In 2013, the Ministry of Defence issued a clasp to Bomber Command veterans, which was designed to attach to the 1939 to 1945 Star for which those veterans had previously qualified.
But speaking during a visit to the International Bomber Command Centre in Lincoln, the last British Dambuster George "Jonny" Johnson said it was an insult.
"Mine is still in the box, and there it will stay until we get a medal," he said.
It is estimated that Bomber Command killed between 300,000 and 600,000 civilians during large-scale bombing raids on German cities.
Symon Hill, from the Peace Pledge Union, said civilian deaths should be taken into account.
"The core activity of Bomber Command was the mass-bombing of German cities and civilians."
He said: "To award a medal isn't just to recognise how the members of Bomber Command suffered, it would implicitly suggest that activity was OK, which is not something we should feel comfortable with."
Bomber Command
Almost a million men and women served or supported Bomber Command during World War Two
More than 55,500 men from Bomber Command died in the skies over Europe
Only 30% of those who flew reached the end of the conflict without being killed, injured or taken prisoner
Bomber Command crews came from more than 60 different countries
Every member was a volunteer
The average age of those killed was 23
It delivered the world's first airborne humanitarian mission, Operation Manna, delivering 7,000 tons of food parcels in 10 days over the west of Holland, where one million people were registered as starving
Source: IBCC