World Cup: England fan covers house with giant flag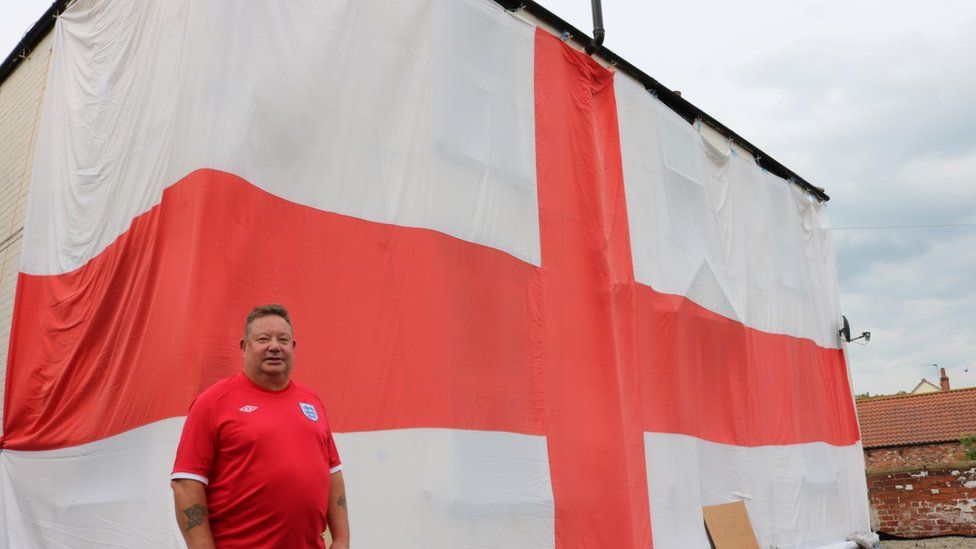 A self-professed "mad football fan" has draped a huge flag across the front of his house to cheer on England in the World Cup.
John Jupp, from Blyton, Lincolnshire, said the flag measures 1,250 sq ft (116 sq m) in size and completely covers the front of his house.
England fans in cars have been showing their support by honking their horns, he said.
Mr Jupp backed England to progress to the quarter finals of the tournament.
"It turns heads and people are always beeping as they go past," he said.
Mr Jupp has to use a rear entrance to get into his home as the flag covers the entirety of the front.
He has also had to design a makeshift sign asking for all deliveries to go around the back.
Mr Jupp, who describes himself as "a mad football fan who loves international football", bought the flag from China in 2010 for £380.
Mr Jupp said this summer's World Cup could be its last outing as it was now "a bit shabby".
However, he has not ruled out buying a replacement, if he can convince his wife it is a good idea.
It caused a "bit of trouble" for him during the European Championships in 2016 when his wife said "no more".
"But I've got her round again and she is fine," Mr Jupp said.
On England's chances, Mr Jupp said he was confident Gareth Southgate's team would make it through the group stages, but thinks they could lose to Germany, on penalties, in the quarter finals.
You can also get in touch in the following ways: