Laughton woodland saved as major blaze rips through grassland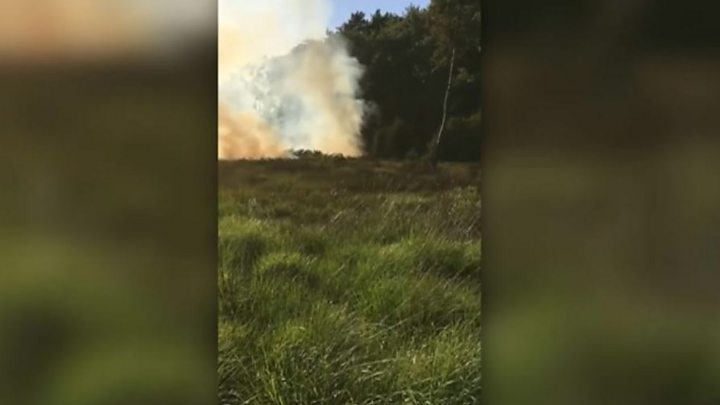 Firefighters worked through the night to prevent a major grassland fire spreading to nearby woodland in Lincolnshire.
Two-and-a-half acres of grassland were damaged by the fire at Laughton Woods, near Gainsborough.
Lincolnshire Fire and Rescue said the ground was "tinder dry" which allowed the fire to spread quickly.
Station manager Paul Howes said prompt action meant nearby woodland was largely unaffected.
About 15 firefighters fought the blaze, which was reported on Thursday night.
Crews remain in place to dampen down as "the ground is ready to go at any point," Mr Howes said.
However, he said he was hopeful there will be no lasting damage to the area, or to its wildlife.
The cause of the fire is not yet known but Mr Howes warned against people discarding cigarettes and glass bottles.
Firefighters have spent much of the week tackling a huge moorland fire in Greater Manchester, with about 100 troops from the 4th Battalion, Royal Regiment of Scotland, sent in to help.
Military assistance was requested to help battle the blaze near Saddleworth Moor which has spread across seven square miles, in six different areas.
The hot, dry and windy weather has also hampered efforts to get the blaze under control, officials said.