Inquest opens after man hit by car outside Lincolnshire pub died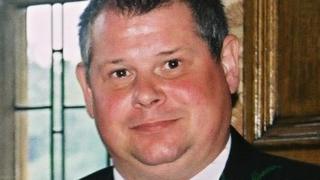 An inquest has opened into the death of a man who was hit by a car outside a pub in Lincolnshire.
Kevin Nix, 46, from Spalding, was fatally injured when he was struck by a black Peugeot near a pub in Crowland on 24 June.
Alison Kingsly, 42, was charged with attempted murder. Police said the charges are being reviewed in light of Mr Nix's death.
The inquest in Boston was adjourned until the outcome of court proceedings.
Mr Nix, a father of three, was struck by a car near Ye Olde Bridge Inn in Crowland, Lincolnshire Police said.
Ms Kingsly was also charged with failing to comply with a breathalyser test.
She is currently on remand and is due to appear in court on 30 July.