Lincolnshire Police failed to record thousands of crimes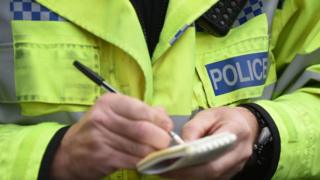 Thousands of crimes including sexual offences and rape have gone unrecorded by a police force, a watchdog found.
Lincolnshire Police failed to record 9,400 crimes, about 18.8% of its total, in 2017, according to a new report.
Her Majesty's Inspectorate of Constabulary and Fire & Rescue Services (HMICFRS) rated the force as "inadequate" for recording crime.
The force said there were "no missed victims or offenders" and blamed procedural errors for the problems.
According to the report, which covered June to November 2017, less than three-quarters (72.7%) of violent incidents were recorded.
It added: "This means that on too many occasions, the force is failing victims of crime."
The report found "a large proportion of common assaults and malicious communication offences" and "small number of more serious crimes including sexual offences, grievous bodily harm and rape" were not recorded.
In a separate report, Humberside was graded as "requires improvement" for recording reported crime. HMICFRS estimated it failed to record 14.3% of reported crimes each year.
The Metropolitan Police, the largest force in England and Wales, was rated "good" but also failed to record more than one in 10 crimes reported to it.
Two thirds of forces told to do better
If someone calls the police about an incident, an officer may investigate and the victim may be given support.
However, the police still have to decide whether or not to "record" that incident as a crime.
This data helps inform both the force itself in preventing, detecting and prosecuting crimes and it builds the national picture of whether certain types of crime are rising or falling.
In 2014 the police watchdog found one in five crimes reported to police were not being recorded. As a response it created "crime data integrity" reports following approval by the then Home Secretary Theresa May.
Lincolnshire Police is the eighth force in England and Wales rated inadequate for crime data integrity.
A further seven have been told they require improvement. This means 15 of the 23 forces to have been inspected or re-inspected since 2016 have been told to do better.
Responding to the report, Lincolnshire's Deputy Chief Constable Craig Naylor said the force was working hard to resolve matters.
However, he said errors in recording reported crime did not affect the service to victims or the pursuit of offenders.
He said the report gave the impression some crime was going unreported and unnoticed by the force.
"There are no missed victims or offenders, what we have missed is the correct procedure for recording them," he said.