Grantham bids for rejected Margaret Thatcher statue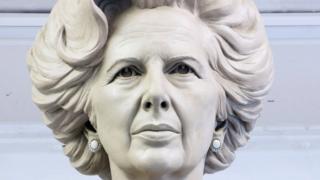 A statue of Margaret Thatcher designed for a square opposite the Houses of Parliament could be erected in her home town.
Officials in Lincolnshire are in talks to secure the bronze sculpture of the UK's first female prime minister.
The statue has been offered to Grantham after plans to erect it in Parliament Square were rejected.
South Kesteven council leader Matthew Lee said it was only right "a daughter of this town be honoured in this way".
Plans to erect the statue in Westminster were turned down earlier this year amid fears of "civil disobedience and vandalism".
Grantham Community Heritage Association (GCHA), which runs the Grantham Museum, and South Kesteven District Council (SKDC) are working with the Public Memorials Appeal to draft outline terms of an agreement.
Mr Lee said: "No-one can dispute she was a very divisive character... but we are honouring her as a person and her links to this town, whatever you think of her politics."
The statue, by Douglas Jennings, was funded by private cash and reported to cost £300,000.
Formal proposals are set to be submitted to the council before the end of the year, allowing councillors to consider the application.
There has been a mixed reaction online to the proposals...
From small town girl to prime minister
Margaret Hilda Thatcher was born on 13 October 1925 in Grantham, Lincolnshire, the daughter of Alfred Roberts, a grocer, and his wife, Beatrice
Her father, a Methodist lay preacher and local councillor, had an immense influence on her life and the policies she would adopt
She attended Kesteven and Grantham Girls' School, but left in 1943 to start a four-year chemistry degree at the University of Oxford, then moved to Colchester to work as a research chemist
First stood for Parliament in the 1950 election and was elected as Conservative MP for Finchley in 1959
Defeated Ted Heath in Tory leadership contest in 1975
Became first female prime minister after Conservative election victory in 1979
---