Winter storm 'battered seals' released in Skegness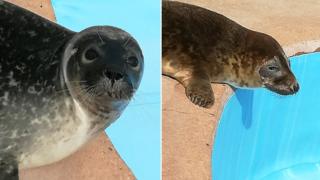 Two seal pups who were separated from their mothers and washed up on a beach near Skegness during a winter storm have been released by a rescue centre.
Earl and Egbert were among 57 seals that were rescued over the winter by Skegness Natureland.
Matt Yeadon, from the centre, said it had been its busiest year ever due to the Beast from the East and Storm Emma.
He said the storms churned up seas, creating big waves, which "battered the seal pups pretty hard".
The seal pups "lost their mums" and ended up on the beach, he added.
The charity normally deals with about 30-40 rescue seals over the winter period but said the exceptional weather had meant it had seen record numbers.
The so-called Beast from the East, which was followed by Storm Emma, caused chaos around the country.
The east coast was badly hit and beaches clogged by tonnes of sand blown in by the storms.
Many of the grey seals rescued by the centre come from the Donna Nook Nature Reserve.
In 2013, the reserve was badly hit by severe weather, which displaced hundreds of the seals.
Since then numbers have started to recover.
Common seals (or harbour seals) in the hospital tend to come from the area around the Wash.