Red Arrows: Lincolnshire mourns RAF Scampton sale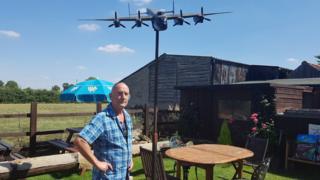 RAF Scampton in Lincolnshire has been home to the Red Arrows for several decades. So the news the RAF base is to be sold has saddened many in the "Big Sky" county.
The beer garden of The Dambusters Inn lies directly under the flight path of the Red Arrows.
Named after the famous WWII raid launched from RAF Scampton, the pub has strong links with the RAF.
Inside, the bar is adorned with memorabilia.
And outside, fans of the Red Arrows have been coming for years, sipping a pint and watching the distinctive jets practise above them.
"It is the best airspace in the country and it won't be the same when they move," says landlord Greg Algar.
"Whenever you see the Red Arrows on TV you get a feeling that they're ours and we'll certainly miss that."
RAF Scampton's place in RAF legend is ensured by its role in the Dambusters story.
RAF 617 Squadron set off from there in May 1943 on its bombing raid of Nazi Germany and there is a museum on the site dedicated to the station's story.
The squadron's black Labrador mascot, which belonged to Wing Commander Guy Gibson, is also buried there.
Mr Algar said it was important the base's history was preserved for future generations.
He said he hoped the Red Arrows might move to RAF Cranwell, also in Lincolnshire, which is where Prince William earned his wings.
"At least then they can come over here to practice," he said.
Lincolnshire is known locally as the "Big Sky County", as a result of its famously flat landscape, and has a strong aviation tradition.
The county's police and crime commissioner Marc Jones even went so far as to suggest losing RAF Scampton "was as serious a blow as Lincoln losing the cathedral" would be.
Local MP Edward Leigh said he was "saddened" by the announcement.
Local people have been taking to social media to express their sorrow and anger.
Cath Breach called the decision "absolutely disgusting", adding: "What about the history?"
While Christine Evans posted: "[The Red Arrows] belong to Lincolnshire and must stay. I'm not Lincolnshire born and bred but live here now and if you mention Lincolnshire it's oh the Red Arrows or the cathedral."
A Facebook group calling for the home of the Red Arrows to be saved has also been established.
Scores of celebrities have also flown with the Red Arrows over the years, including racing drivers Lewis Hamilton and Nigel Mansell and Queen guitarist Brian May, who described it as an "amazing experience".
The general mood of many people in Lincolnshire was summed up by Lincoln resident Pete Barton, who said: "It's their home."
---
History of the Red Arrows
The RAF had several aerobatic display teams in the 1950s and 1960s, but decided to disband them and form a single, full-time professional team
The name Red Arrows was chosen to combine the appeal and expertise of two earlier teams, the Black Arrows and the Red Pelicans
The team was founded in 1965 at RAF Fairford in Gloucestershire and is currently based at RAF Scampton in Lincolnshire
Since its formation, the team has performed more than 4,500 displays in more than 50 countries