Police in recruitment drive to engage with Eastern Europeans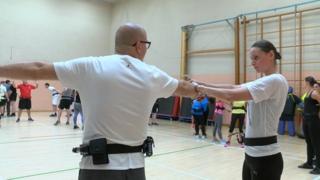 Six multilingual recruits have begun training with Lincolnshire Police as part of a drive to make the force more representative.
About 30% of people in the south of the county are from an Eastern European background, according to police chiefs.
Chief Constable Bill Skelly said a lack of officers who speak Polish, Latvian and Lithuanian made it hard to engage with those communities.
One Polish recruit said she hoped to make a real difference.
Gosia Golata has been working in the UK for 10 years.
She said: "Polish people will often avoid the police because they are afraid to come forward.
"It's because they can't communicate properly."
"I'm hoping I will be able to connect with them and make a difference," she added.
The new recruits were chosen from more than 100 applicants after a campaign to find people with language skills.
A current recruitment drive is also welcoming applications from people with relevant second languages.
Mr Skelly said it was vital as the force only currently had "three or four people who can represent those communities".
"It is a problem for us because it impedes our communication - our ability to relate to those communities."
The 2011 census found that in Boston about 13% of the town was born elsewhere in the EU - largely East European migrants who arrived after 2004.