Man saved from Skegness mobility scooter fire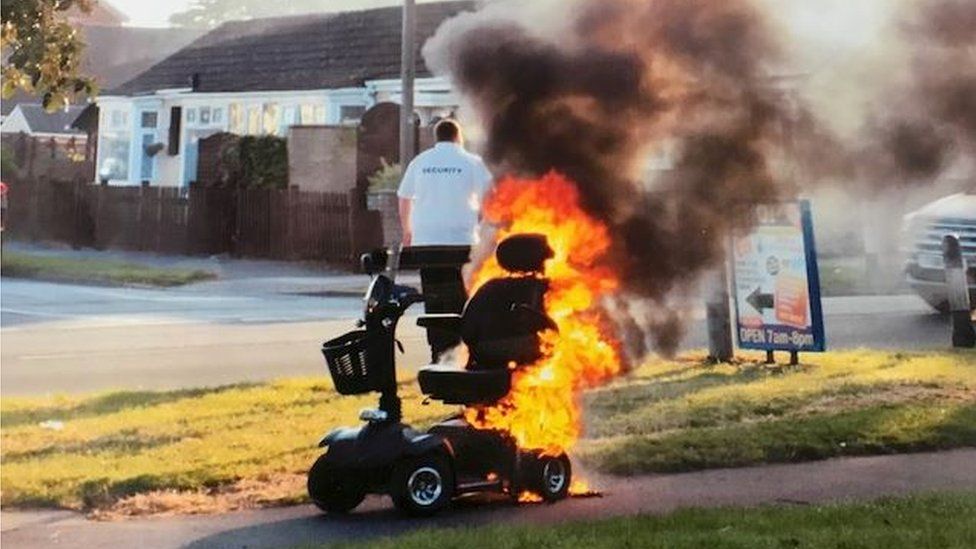 A disabled man was saved by a brother and sister who pulled him from his mobility scooter moments before it burst into flames.
Daniel and Megan Cooling were driving down Church Road North, Skegness, at about 07:00 BST on Saturday when they spotted smoke.
Mr Cooling said the man had only one leg and had been having difficulty getting away.
Minutes later he said the scooter "burst into flames".
Mr Cooling said he was going home after finishing a 12-hour shift at work when he and his sister spotted the smoke.
"As we pulled up, we saw flames coming from the scooter's motor and battery and the man was trying to get off so me and my sister dragged him out of the way," he said.
"The poor gentleman couldn't stand up or walk very well so we helped him to the fence.
"We were only a few feet away and we were just in the nick of time before the entire thing went up in flames."
The man had been returning home from a supermarket with his shopping when the scooter started smoking.
Mr Cooling said his first thought was of his grandmother, who also drives a mobility scooter.
"It was the adrenaline rush, I just jumped to drag him off," he said.
"The poor man was in quite a bit of shock - he couldn't get off and he couldn't walk.
"There was nobody about at that time in the morning so it was lucky we were passing."
After calling the fire service, the brother and sister said they drove the man home with his shopping and made him a drink.
Lincolnshire Fire Service said one crew was deployed from Skegness to a fire caused by an "unknown electrical fault on the mobility scooter".
Related Internet Links
The BBC is not responsible for the content of external sites.