Longest staged sea swim 'record broken' by Ross Edgley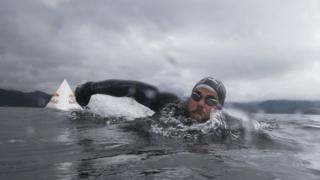 A man has broken the world record for the longest staged sea swim on the 74th day of his attempt to complete a 2,000-mile swim around Britain.
Ross Edgley has not set foot on land since starting his challenge on 1 June from Margate in Kent.
His team said he broke the record set by Benoit Lecomte who spent 73 days swimming across the Atlantic in 1998.
"It's exciting to be setting a new record but we've still got so far to go," the Lincolnshire swimmer said.
"We've been having a mini celebration over breakfast but there are still more than 900 miles to go, so we're trying to celebrate but at the same time understanding there's still so far to go."
The 32-year-old, from Grantham, swims for six hours at a time with six hour rests in between on his support boat and is expected to only come ashore when he completes his challenge.
The record for "longest assisted contiguous stage swim" will need to be verified by the World Open Water Swimming Association.
Mr Edgley, who is currently on the west coast of Scotland, said the journey had taken its toll on his body as he experienced "salt mouth", where chunks of his tongue began falling off because of exposure to the salty water, and painful chafing from his wetsuit.
However, he said he had had "some amazing experiences" so far with one woman swimming out to him with a freshly baked cake on her head, while others anonymously came out to leave fudge on his boat.
"Scottish water is a lot colder and tastes fresher and the Irish sea tastes nice and was an amazing turquoise colour," Mr Edgley added.
"There have been lots of jellyfish and the jellyfish in Scotland are bigger and meaner."