Drugs and safety fears at Morton Hall removal centre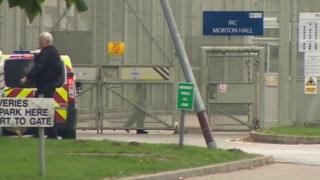 Drug abuse and the length of time some detainees are being held at a Lincolnshire immigration centre have been highlighted as a "concern".
The number of offenders being held at Morton Hall Immigration Removal Centre was also identified as a safety issue.
The Home Office said action was being taken to cut drug use at the centre.
The findings came in the Independent Monitoring Board's annual report for 2017 which covers a period when four detainees died at the centre.
An investigation into those deaths was still ongoing, the Home Office said, and inquests were yet to be held.
The IMB report, which looked at the centre's performance through 2017, also says up to 40% of the 392 detainees at the centre near Swinderby are offenders waiting to be deported.
The study said there were concerns about the availability and supply of drugs, although staff were showing "efforts and enterprise" in dealing with the problem.
But the volume of inmates who had "significant" mental health problems raised concerns with the board, which is made up of members of the public.
The numbers of so-called Time-Served Foreign National Offenders (TSFNO) was highlighted in the report as sometimes "undermining the welfare and safety of other detainees".
"Drug dog"
The report also said staff had made efforts to ensure detainees were treated with dignity and respect, and significant efforts had been made to enhance mental health provision.
In its summary, the board said: "We are concerned about the suitability of a detention environment for some detainees."
A Home Office spokesperson said: "We are not complacent.
"Action is being taken to reduce the risk of drugs entering the centre by introducing the use of a drug dog and increasing staffing on visits."