Safety fears prompt Sutton on Sea beach hut demolition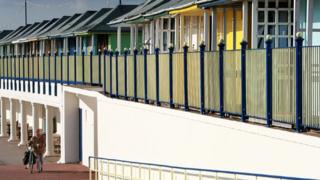 A beach hut owner is "absolutely devastated" the site her beach hut stands on is to be demolished.
The colonnade at Sutton on Sea in Lincolnshire is to be pulled down after engineers found "significant structural issues".
East Lindsey District Council (ELDC) has offered owners £500 each to move huts to another nearby plot.
Hut owner Rebecca Dale said the money would not cover the cost and she would lose her "lifeline".
More on this and other Lincolnshire stories
She said she had bought her hut four years ago for £13,000.
"We've got two adopted children and one of them has got a learning disability," she said.
"She can't cope with going on holiday, so our beach hut is our lifeline."
James Gilbert from ELDC said the structure, built in the 1950s, had "reached the end of its life".
He rejected claims the council had failed to properly consult with the private owners of the huts.
"It isn't negotiable," he said.
"We need the weight taken off that colonnade.
"We have identified additional plots that weren't previously available for the hut owners to move their hut on to and we've offered them a sum of money."
The council said it would talk to the community about any redevelopment plans for the site once it was cleared.