Man who 'doesn't like cows' in farm inheritance battle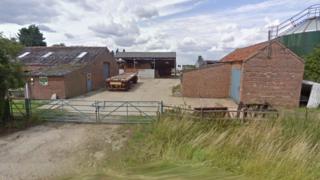 A dairy farmer's son who "doesn't like cows" is fighting his parents in the High Court over his right to inherit the family farm.
Clive Shaw, 55, said he had worked on the farm in New York, Lincolnshire, from the age of seven, and was promised that it would be his.
But after the family fell out his parents wrote him out of their wills.
The court heard Mr Shaw had not worked hard enough and was in a relationship with "a gold digger".
For the parents, Gillian and Walt Shaw, both 78, barrister Katherine Hallett claimed their son had exaggerated the extent of the work he did on the farm.
"He would keep out of the way when his father was working with the herd," she told London's High Court.
His sister, Cheryl Hughes, told the court he would often say things like cows were "stinking, horrible, rotten creatures".
"You frequently said to members of your family that you hated the cows," Ms Hallett put to Mr Shaw.
He replied: "I said I didn't like them - I didn't hate them."
'Arduous' work
Mr Shaw told the court he started work on the farm when he "was in short pants" and had given much of his life to the business.
His barrister, Leslie Blohm QC, said he had performed "arduous" work for relatively little money over many years on the understanding that he would inherit the business.
"Mrs Shaw has a history of finding fault with her son's partners, and the present dispute has been prompted by her belief that Ms Hollis is a gold digger," he added.
The court also heard Mr Shaw now runs an American show-truck business from the site of the farm and lives in a caravan.
Judge John Linwood has reserved his decision until a later date.