Gang jailed over large-scale drugs operation in Lincolnshire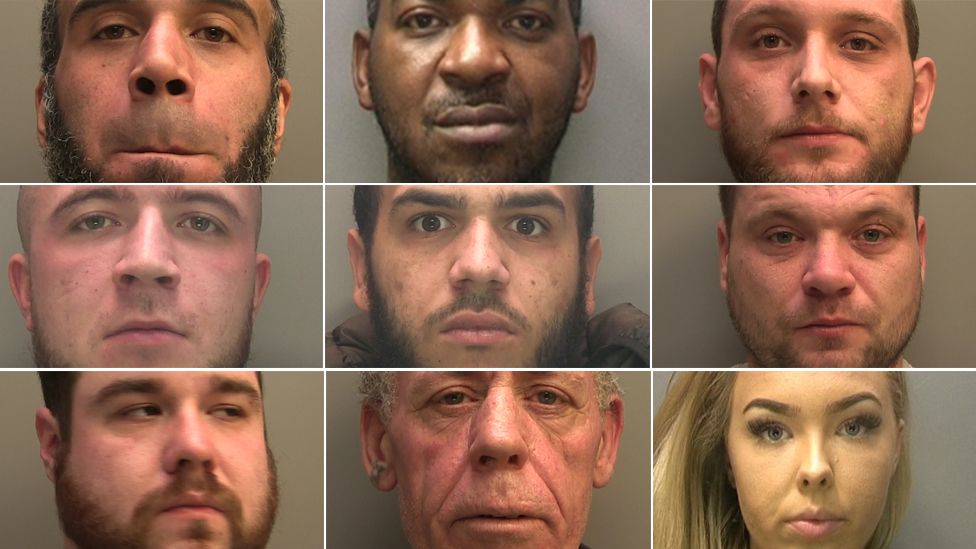 Nine members of a gang which transported large quantities of drugs from the West Midlands into Lincolnshire have been jailed.
Lincoln Crown Court heard couriers made repeated trips from Birmingham and Coventry bringing crack cocaine, heroin and cocaine to Boston and Grantham.
The drugs were said to be worth hundreds of thousands of pounds.
All nine pleaded guilty to conspiracy to supply class A drugs between 1 May and 15 December 2017.
The court heard gang leader Jermaine Alcide arranged for the drugs to be sourced through his step father, Wade Walker, who operated from several addresses in Coventry in an effort to disguise his activities.
Alcide, who was based in Grantham, used four other gang members to transport the drugs.
Darren Burden and Martin Hart also acted as Alcide's "trusted lieutenants in Grantham" and would often meet other couriers in a rural location, near the village of Redmile, Leicestershire, after they had been to Coventry.
The court also heard Alcide sought to hide his activities through a music promotions business named ShireBoy Events, which claimed to organise gangster rap gigs.
He also set up a sham property development business.
As part of his spending, Alcide hired top-end cars, spending almost £5,000 on short-term rentals which included a Mercedes SLS, the court was told.
"These companies were designed to provide an explanation for his lifestyle. They were to provide a cover and an explanation for any income he had," Judge John Pini said.
Passing sentence, he added: "It is plain that this was a well-organised, carefully planned and coordinated conspiracy to supply class A drugs."
Jermaine Alcide , 37, of West Street, Barkston, near Grantham, was jailed for 16 years and two months
Wade Walker, 58 , of Earlsdon Avenue North, Earlsdon, Coventry, was jailed for 14 years and 10 months
Darren Burden , 29, of Hornsby Road, Grantham, was jailed for 11 years and three months
Lewis Peters, 22, formerly of Boston but now of Cox Drive, Bottesford, Leicestershire was jailed for nine years
Clinton Haw, 23, of Carlton Road, Boston, was also jailed for nine years
Martin Hart, 35, of Bridge End Road, Grantham, was jailed for seven-and-a-half years
Craig Haynes, 30, of Beechcroft Road, Grantham, was jailed for six years
James Evans ,55, of New Beacon Road, Grantham, was jailed for three years and nine months
Bobbie-Jayne Pritchett, 22, of Childs Avenue, Bilston, Wolverhampton, was jailed for two years and four months
Related Internet Links
The BBC is not responsible for the content of external sites.