RAF Stenigot Cold War communications dishes 'sold for scrap'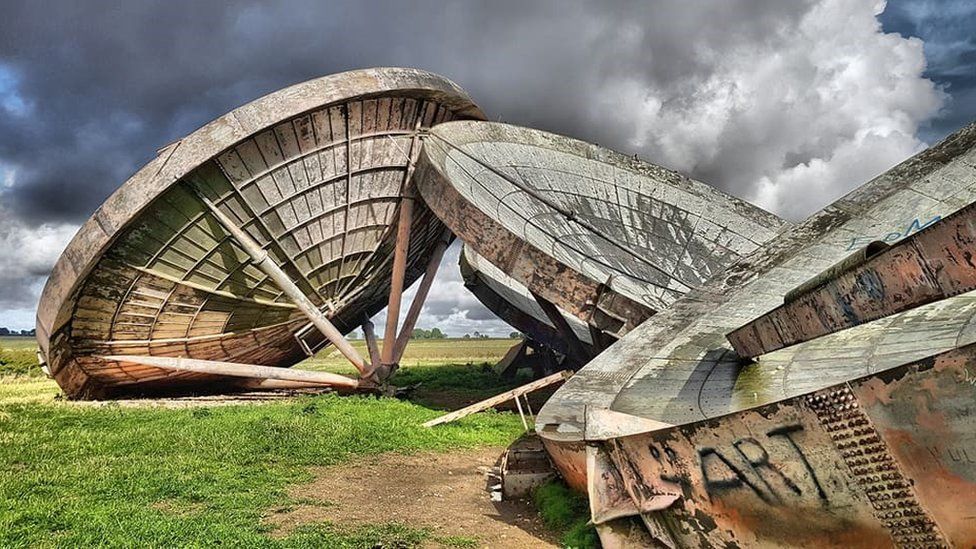 Three of four giant communications dishes which mysteriously disappeared from a World War Two RAF station may have been scrapped, it has emerged.
The 20m-wide long-distance microwave dishes at RAF Stenigot in Lincolnshire were abandoned in the 1980s after the systems became redundant.
The dishes, which appeared recently in the Channel 4 series Hidden Britain by Drone, were a popular local landmark.
The MoD said the removal work was undertaken by the current landowners.
According to Lincolnshire Live, the dishes, which were part of an emergency communications network between Nato countries, were "chopped up" by a local firm and sent to a scrapyard.
The site's owners have been contacted by the BBC but are yet to respond.
Most of the former RAF station had been previously demolished apart from the Grade II listed radar tower which is still used by the RAF Aerial Erector School for training.
It is not yet known if there were any protection orders in place for the dishes.
A spokesman for the local authority, East Lindsey District Council, said: "We do have an investigation under way looking into this matter.
"This will be to determine whether the removal of the dishes would have required permission."
Richard Hardesty, from Louth, who was a regular visitor to the site, said he was "hugely disappointed".
Others also expressed their disappointment.
Steve Mack, who photographed the site in 2017, said he was shocked by the news.
"They should have been protected for future generations to visit, and to understand what they were used for," he said.
Related Internet Links
The BBC is not responsible for the content of external sites.