Margaret Thatcher statue plan unveiled in Grantham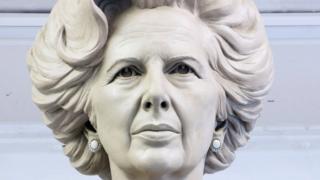 A sculpture of Margaret Thatcher that was turned down in London amid fears of it being vandalised could be erected in her home town.
Originally intended for a site near the Houses of Parliament, it was rejected by Westminster Council in January.
Councillors said it was possibly too soon after her death and questioned the depiction of the figure in State Robes.
South Kesteven District Council is to consider plans for the statue to be put in Grantham, Lincolnshire.
The work, which is currently said to be in storage at "a secret location", will be placed in St Peter's Hill if approved.
The sculpture, which received support from Prime Minister Theresa May, was offered to Grantham in July after the original plans were rejected.
A Westminster council planning document suggested the proposed statue had come too soon after Lady Thatcher's death in 2013.
The council has a "10 year principle", where statues or memorials are generally not erected until 10 years have elapsed since the subject's death.
The Metropolitan Police also raised concerns over possible civil disobedience but this did not form part of the planning application.
But Grantham Community Heritage Association (GCHA), which runs the town's museum, said it was a "fitting tribute to a unique political figure".
It also said it would encourage visitors to the town "from both sides of the debate".
Trustee David Burling said the statue would help secure the future of the town's museum, which has featured a number of displays of the former Conservative leader, including a Spitting Image puppet from the satirical ITV show.
Council leader Matthew Lee has said: "No-one can dispute she was a very divisive character... but we are honouring her as a person and her links to this town, whatever you think of her politics."
Commenting earlier, he added the statue would be a fitting memorial to "Grantham's most famous daughter".
The statue has been paid for by The Public Memorials Trust, and money raised by the GCHA Margaret Thatcher Appeal will pay for its delivery.
---
Margaret Hilda Thatcher was born on 13 October 1925 in Grantham, Lincolnshire, the daughter of Alfred Roberts, a grocer, and his wife, Beatrice
Her father, a Methodist lay preacher and local councillor, had an immense influence on her life and the policies she would adopt
She attended Kesteven and Grantham Girls' School, but left in 1943 to start a four-year chemistry degree at the University of Oxford, then moved to Colchester to work as a research chemist
First stood for Parliament in the 1950 election and was elected as Conservative MP for Finchley in 1959
Defeated Ted Heath in Tory leadership contest in 1975
Became first female prime minister after Conservative election victory in 1979
---