Bodybuilding police officer sacked over steroid claims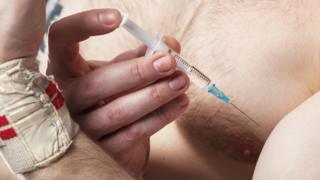 A police officer suspected of using anabolic steroids to improve his physique has been sacked.
PC Lewis Jackson refused to take a drugs test, insisting his newfound bulk was the result of hard training.
A disciplinary hearing was told Facebook photos of the officer "seemed to indicate a disparity in his early and current physique".
He was dismissed without notice after a Lincolnshire Police panel found him guilty of gross misconduct.
Gainsborough-based Mr Jackson was investigated after a colleague reported suspicions to a chief inspector.
Mr Jackson resigned on 9 October, the day after being asked to take a drugs test, the hearing was told.
After refusing to give a sample, he was told declining the test would be treated the same as failing it.
'Snide remarks'
David Ring, representing the force, told the hearing it was not unlawful to use steroids but it was illegal to supply them without prescription.
"This is a matter a police officer should be aware of," he said.
Insp John Hassell, from the Lincolnshire Police Federation, said Mr Jackson admitted the breach of conduct.
However, Insp Hassell said the officer was "keen to stress" he never used anabolic steroids but felt it necessary to resign because he heard "snide remarks" from other officers and believed he would always be targeted.
The officer insisted his physique was due to hard training and lawful supplements.
He also admitted he had not settled in Lincolnshire after transferring from the Metropolitan Police a year earlier.
Chief Constable Bill Skelly, who chaired the hearing at police headquarters, found Mr Jackson's failure to provide a drugs test amounted to gross misconduct and said he was not persuaded by his explanation.
Dismissing him, he told the panel: "I find that PC Jackson's actions were inconsistent with that of a warranted officer."