Lincoln school remembers boy who fell from window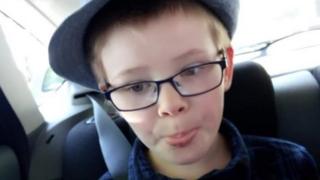 A school has held a day of activities to remember a former pupil who died after falling out of a window.
William Coy, 6, died in hospital after the fall at a house in Lincoln, in July.
His classmates at Monks Abbey Primary School wore bright colours and took part in art activities as part of "William Rocks" day.
Deputy Head Ben Carver said: "William was full of life and we really just wanted to try and capture that."
"We have all come in bright colours and the children have been taking part in things William really enjoyed."
The school also held a special assembly where pupils shared their memories of William.
One pupil said William was always very kind, while others remembered sledging with him, playing football and looking at tadpoles.
Mr Carver said William, who was a member of the school council and eco warriors, always had a smile on his face and always had something to say.
"He would even tell teachers if they left the lights on," he said.
"He wanted to do everything to make the school a better place."