Drugs councillor Sharon Hopkinson jailed for three-and-a-half-years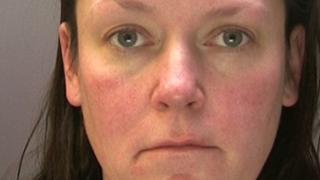 A disgraced councillor and hotelier who was convicted of conspiracy to deal drugs has been jailed for three-and-a-half years.
Sharon Hopkinson, 45, of The White Hart Hotel in Gainsborough, was found guilty following a trial at Nottingham Crown Court in September.
She was sentenced at Leicester Crown Court for her involvement in a large-scale Class A drugs operation.
Norman Foreshaw, 39, also of The White Hart Hotel, was jailed for 16 years.
Another lead player in the operation, Roger Bayes, 48, of Keddington Avenue, Lincoln, was jailed for 12 years.
Lincolnshire Police said the conspiracy centred around a property on Bailgate in Lincoln, which was used to prepare "significant quantities of Class A drugs".
Officers discovered cutting agents, a hydraulic press and heat-sealing equipment which were used to bulk out the drugs to maximise profits.
"This was a sophisticated operation, with all parties entering into an agreement to play their part in the distribution of Class A drugs," Insp Jo Fortune said.
"Roger Bayes and Norman Foreshaw were the tenants at the Bailgate property and were clearly the spearheads of the operation, while Sharon Hopkinson provided the properties to enable the drugs business to take place."
Judge Martin Hurst said Bayes and Foreshaw "directed and had influence over the other members of the conspiracy".
"Sharon Hopkinson played a lesser role in that she did not see or touch the drugs," he added.
Hopkinson, who served on Gainsborough Town Council, resigned following her conviction for the offences, which took place between April 2015 and July 2016.
She also had her licence on The White Hart revoked due to "high levels of cocaine" being found in both toilets and the main bar, and anti-social behaviour.
Those sentenced:
Norman Foreshaw, 39, of White Hart Hotel, Gainsborough, jailed for 16 years
Roger Bayes, 48, of Keddington Avenue, Lincoln, jailed for 12 years
Sharon Hopkinson, 45, of White Hart Hotel, Gainsborough, jailed for three years and six months
Charlie Murray, 28, of Washington Street, Hull, jailed for four years and seven months
Elon Williams, 24, of Washington Street, Hull, jailed for four years and seven months
Robert Sharpe, 50, of Greetwell Gate, Lincoln, jailed for three years and 10 months
Dwan Fowler, 31, of Jarvis Close, Lincoln, jailed for two years and seven months