Gainsborough drug gang suspect was nominated as mayor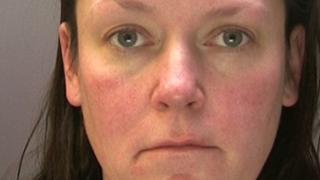 A former councillor now in jail for her involvement in a drugs conspiracy was nominated as mayor four months after being charged, it has emerged.
Sharon Hopkinson, 45, of the White Hart Hotel, Gainsborough, was jailed for three and a half years last week.
She was charged in January, but was proposed at a council meeting in May.
Five councillors, including Hopkinson, voted in favour. Seven backed Richard Craig, who was appointed as mayor of the town.
Lincolnshire Police said Hopkinson was originally arrested in connection with their investigations on 5 February 2016.
She was charged almost two years later - on 29 January this year.
She was involved in a large-scale Class-A drugs operation run from a Lincoln property.
The Local Democracy Reporting Service reported that Caz Davies - who supported Hopkinson's bid along with Tim Davies, Michael Hopper and Denise Schofield - said the councillors were "not allowed to talk about" Hopkinson.
However, Ms Davies said Hopkinson's actions on the council were "completely different" to her normal life, and that nobody knew about the ongoing investigation at the time.
Hopkinson was jailed at Leicester Crown Court on Friday for her part in the conspiracy to supply heroin and cocaine, offences which took place between April 2015 and July 2016.
Since her conviction, it also emerged Lincolnshire Police called for the licence on the White Hart Hotel, owned by Hopkinson, to be revoked back in July.
In a report, the force said there had been "a significant rise in serious assaults, which appear to centre on the White Hart Hotel".
A drugs check in March found "high levels of cocaine" in the toilets and the main front bar, according to police.
Hopkinson has since surrendered her licence.