Student hit by car outside Welbourn school dies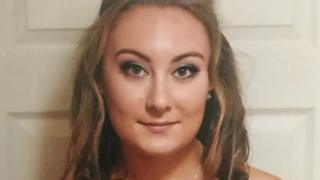 A student who was hit by a car outside her school has died, police have confimed.
Millie Taylor-Noonan, 18, was hit by a Mercedes car outside Sir William Robertson Academy in Welbourn, Lincolnshire, on Tuesday.
She was and airlifted to hospital but later died of her injuries. Police are appealing for witnesses.
Her family said Millie, from Sudbrook, was "a happy, kind, caring and beautiful young lady".
A statement read: "Millie was passionate about the environment and for her 18th birthday she did not want presents but asked people to donate to the Clean Oceans campaign.
"She was also a member of the Centre for Alternative Technology, in Wales, and completed the Walk For Wildlife, with Chris Packham.
"Millie had also made the choice that at the end of her life her organs should be donated, to help others."
In a separate incident in the county, a girl was killed when she was hit by a lorry after getting off a broken-down school bus.
Eliza Bill, 16, was hit by a Scania HGV on the A15 London Road in Osbournby, on Monday.
A 14-year-old girl was also hurt but her injuries were "not thought to be serious", police said.