Lincoln brain injury advocate wins national award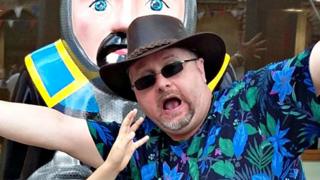 A Lincoln man with a brain injury has been given an award for raising awareness of the condition.
Andy Nicholson, 47, fell down a stairwell at a building site in 1994, fracturing his skull and leaving him with epilepsy, partial blindness and with coordination problems.
Since his injury, Mr Nicholson has used social media to provide information about living with a head injury.
He has also organised fundraising events, including a sponsored walk.
Mr Nicholson posts online under the nickname of "The Brain Damaged Baron" and appears in videos discussing issues relating to his injury, such as chronic fatigue, background noise, pain and seizures.
He was presented with the Achiever of the Year award by the brain-injury charity Headway in a ceremony in London.
Mr Nicholson described winning the award as "humbling and an honour".
"I'm doing it to be noticed, listened to, hopefully laughed along with and for no other reason than to get the awareness ball rolling," he said.