Bearded vulture: Mystery of bird's UK appearance solved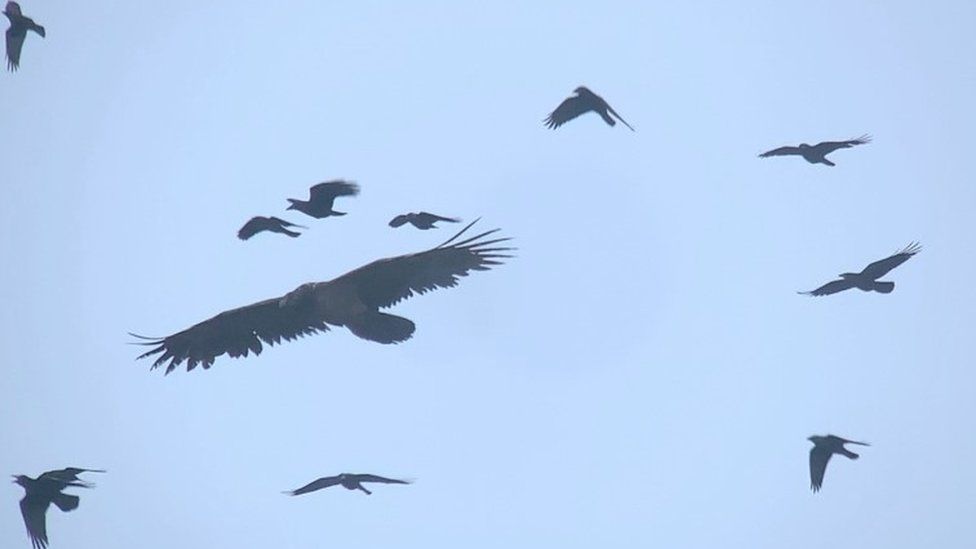 The origin of a giant vulture seen flying over the UK has been discovered after scientists analysed its feathers.
The bearded vulture, named Vigo, was spotted recently in the skies above Lincolnshire and Norfolk.
With a wing span of 2.5m (8.2ft), the bird is rarely seen in the UK and is normally found in Alpine regions.
Genetic tests on feathers discovered by a Yorkshire birder show that Vigo is a female which hatched last year in the French Alps.
Previously, the only other reported sighting of a bearded vulture in the UK was in 2016, around Dartmoor and Monmouthshire.
Two small feathers were found at a site in the Peak District which allowed the Vulture Conservation Foundation (VCF) to determine the bird was born in a wild nest in the Haute-Savoie region in south-east France.
The VCF has been working to conserve the endangered animal since 1986 by releasing captive bred birds into the wild. The foundation said there are now 60 plus breeding pairs in the Alps.
Louis Phipps, VCF's research officer based in the UK said despite the success of the breeding scheme the main threat to the birds were "poisoning, collision and shooting".
"Although these birds may encounter multiple threats, and as a result some will be killed, their chance of survival increases with age and many survive to become breeding adults," said Mr Phipps.
"The mortality records that we receive every week show that threats still exist across the range of vultures in Europe, while the population increases reflect the success of conservation efforts."
Despite its enormous size, the bird is not dangerous to people or farm animals, and feeds on scavenged bones.
Related Internet Links
The BBC is not responsible for the content of external sites.