Covid: School hand-washing 'damaging children's skin'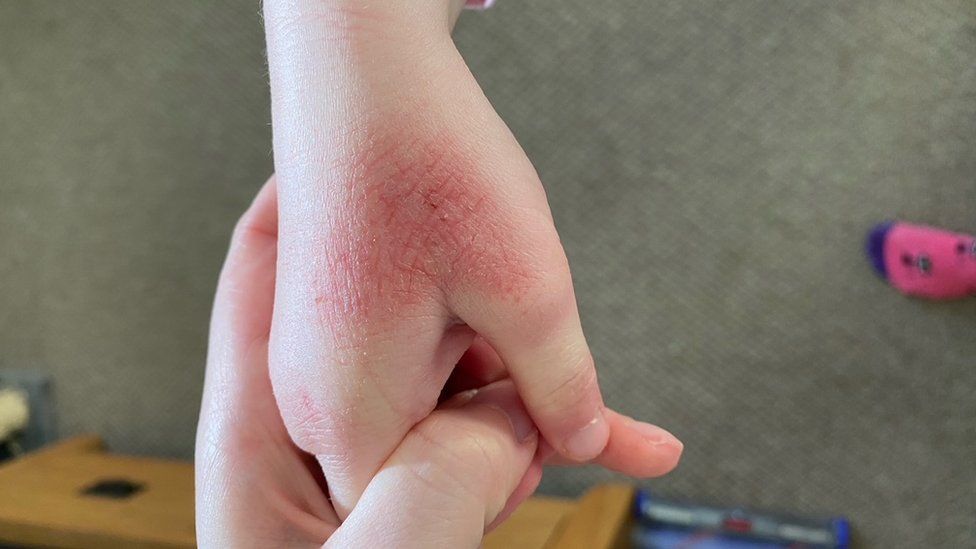 A mum says her daughter's hands have been left cracked and bleeding because of "excessive" hand-washing at school.
Jordan Ferris, from Grimsby, said five-year-old Grace has been left upset and in pain because of reoccurring eczema caused by soap and sanitisers.
The British Skin Foundation said the number of children with hand eczema had risen during the pandemic.
The government said schools should ensure children "clean their hands thoroughly more often than usual".
Ms Ferris said her daughter returned to school last Monday after being home-schooled since January.
Grace, who had suffered with eczema when she was two, began to suffer itching and by the end of the week her hands were "really dry, red, cracked and bleeding slightly", Ms Ferris said.
She believes regular hand-washing enforced at school is the reason her daughter's skin has become inflamed again.
"It's a bit upsetting really seeing her come home from school in pain," Ms Ferris said. "She's there to have fun and learn and she's coming back and she was really upset about it."
Ms Ferris said her daughter's school has told her Grace can bring in her own hand soap, but she feels children are still washing their hands too often.
"I know it's in the government guidelines about hand washing but it doesn't state in there it's necessary to wash hands to that extent where it's upsetting children and making their hands red raw," she said.
How to protect your child's skin
Almost a quarter of children are suffering from hand eczema because of increased hand-washing during the pandemic, according to the British Skin Foundation.
Children are more likely to be affected by eczema because of a less-developed skin barrier, the foundation's consultant dermatologist Dr Mary Sommerlad said.
"Irritation from soap and water can make existing eczema worse, or trigger contact irritation eczema for the first time," Dr Sommerlad said. "This is because the skin's barrier is disrupted by frequent washing with soap."
For children who are prone to hand eczema, apply a non-fragranced moisturising cream after each handwash
Ensure that hands are properly rinsed and dried after hand-washing so that there is no residual soap on the skin
Apply moisturiser all over the hands. If there are persistent cracked hands despite using moisturiser it may be that your child needs to be seen by their GP for more targeted treatment
For hand eczema in children, your GP may suggest using topical steroids, other anti-inflammatories and occasionally they may refer on to a dermatologist